To give the time and attention to our own unfolding, comepaint process art retreats span over a number of days. The sessions are carried out at locations where we can be closest to nature and can find a greater depth towards self reflection.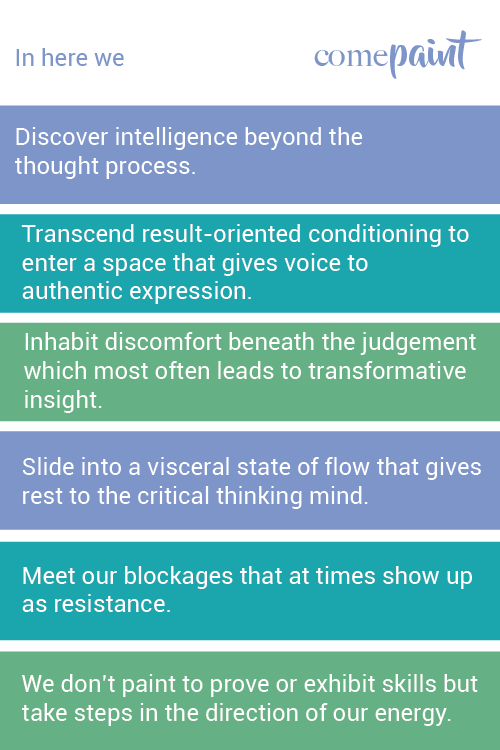 process painting
Process art workshops are an invitation to reconnect with our authenticity and our intuitive body through the act of painting. This approach towards deep listening awakens us to a greater sense of awareness and a renewed capacity to embrace our own unique voice. The inherent artist & the image maker is unconcerned with the limitations of acquired artistic skills or talent, whereas this way of exploration taps into the vast individual potential of transcending creative conditionings and ideas of 'good & bad'. Devoid of critique, judgement and aesthetic preference we tap into the body's energetic intelligence as the guiding principle.
You can participate in comepaint sessions regardless of your skill or profession. There is no prior art experience required.
FAQs
online painting
sound meditation
Sound meditation is a part of comepaint retreats. The pure sonic sound from the singing bowls aid in acquiring relaxed and meditative states that calm the nervous system. Zainab is a certified sound therapy practitioner and works with hand beaten bowls. According to ancient tradition and experiential learning, singing bowl sound frequencies deeply relaxes the body on a cellular level making the internal environment conducive for healing.
Creative exploration through process painting combined with the soulful sound vibrations give way to a journey that goes deep into the core of self compassion and self-care.
upcoming retreats
Zainab is a process painter and a teacher of process-oriented learning. She describes this way of painting as an unfolding of our own humanness rather than learning particular skills directed at producing a final result.
She has trained with the Institute for Art and Living, California (The Painting Experience) based on the work and teachings of author and educator Stewart Cubley who's body of work spans over 40 years. She further deepens her practice and training under the guidance of Stewart Cubley and the community of process painters and facilitators. Previously a design graduate from the Indus Valley School of Art and Architecture, the evolution of her practice has been a journey inwards with the realisation that a deeper thread connects us all with one universal language: a creative source that is not defined by credentials, professional name or skill.